MeRT Helps Your Brainwaves Communicate Better — So You Can Function Better!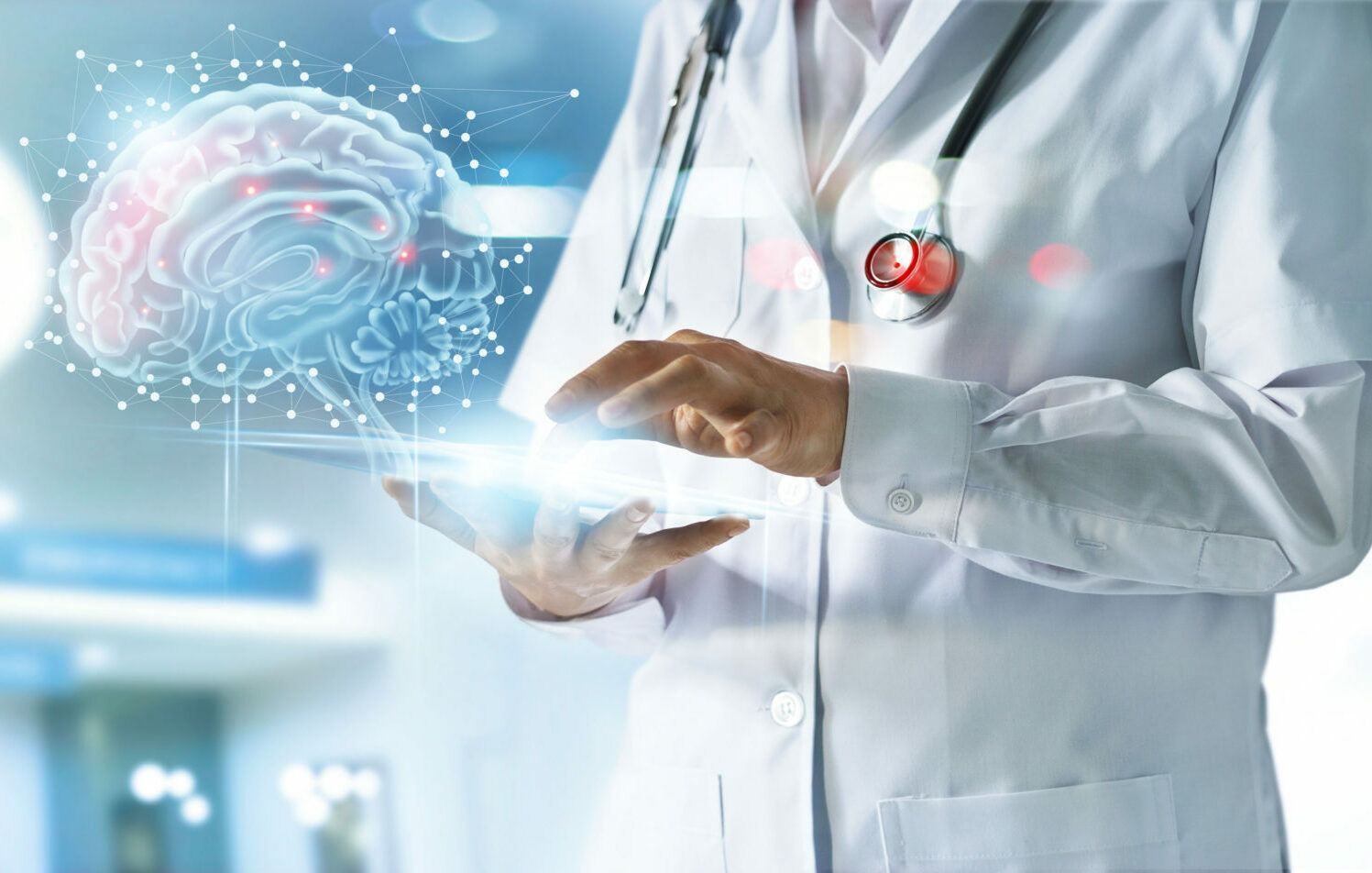 You may know that the brain contains approximately 100 billion neurons.
And the brain works through populations of neurons interacting — or communicating — with each other.
One way that they interact is through tiny electrical oscillations or brain waves.
Many things can disrupt the quality of behavior between your neurons. You may have a(n):
sleep disorder
congenital condition
chemical trauma/addiction
acute injury to the head
chronically high stress, emotional trauma, or anxiety
illness or disease
developmental disorder such as autism, learning disorders, ADD, or ADHD
Disruptions can be minor or significant — everyone has different thresholds of tolerance. Some people can still function in their day-to-day activities, while others are debilitated and have no quality of life.
What is amazing, however, is that with a little nudging in the right direction, your brain can improve.
By measuring and analyzing your brainwave activity, we identify disruptions to your brain network. We then build treatment parameters specifically tailored to your needs. In most cases, we can visibly reshape brainwave activity, regardless of what may have caused the disruption to begin with.
Call Our New Patient Coordinator to Learn More about MeRT
What is MeRT and How Does it Work?
Our technology is a platform to restore the mind.
MeRT, or Magnetic e-Resonance Therapy, is an emerging treatment protocol. We use the combined technologies of rTMS (Repetitive Transcranial Magnetic Stimulation), qEEG (Quantitative Electroencephalogram, and EKG (Electrocardiogram) to tailor treatment to each patient's unique brain wave patterns.
MeRT is non-surgical, non-invasive, painless, and completely drug-free. We use gentle magnetic waves to reprogram dysfunctional electrical signals in the brain. This can modify behavior and restore function.
In essence, we analyze brainwave data to deliver targeted treatment parameters and give you the best outcomes possible.
The MeRT platform is a patent-protected process that is currently undergoing rigorous research by the Department of Defense and several private institutions.
By combining our deep expertise in neuroscience with machine learning analysis, we can identify exactly where the brain waves are not communicating properly and help to restore proper function. MeRT technology can reshape the activity in the brain, regardless of what caused the dysfunction.
If we can positively affect injured or non-neurotypical brains, we may not be far from improving connections in healthy brains and enhancing intelligence in a generalized way."  – Luke Nosek of Founders Fund on Brain Treatment Center
Our Medical Director is a Pioneer in MeRT Treatment
A board-certified internist with over two decades of medical experience, Dr. Julie Kim is the Medical Director of the Brain Treatment Center in San Diego and our Cardiff Braincare Performance Center. She also serves as Medical Director for the original Flagship Brain Treatment Center in Newport Beach.
Over the past decade, Dr. Kim has treated over 5,000 patients with MeRT (Magnetic e-Resonance Therapy). In fact, she was one of the first doctors to work with MeRT technology and is the most experienced MeRT clinician in the world.
Because of her expertise and experience, Dr. Kim co-created the initial safety protocols and physician training programs and has worked with Wave Neuroscience to train and support other physicians.
In the past four years alone, she has trained over 100 physicians to interpret qEEG results and use the full MeRT protocols.
Dr. Kim has seen MeRT therapy change the lives of not only her patients but also the community surrounding each patient. That's why she's so passionate about bringing this technology to as many people as possible.
Read more about Dr. Julie Kim here.
The Four Steps to MeRT
1. Evaluation
First, we will perform a qEEG and an EKG. We use these diagnostic tests to determine the frequencies in the brain and the brain-heart coherence. Then our scientists and physicians will interpret and analyze the results to determine the exact function of the brain.
2. Analysis and Protocol
We use a patented, scientific approach with the testing data. This approach allows us to develop a highly customized treatment plan which can encourage healthy brain communication and function.
3. MeRT Treatment
With your treatment protocols in place, you'll come to therapy five days a week, two weeks at a time. During your treatment, you'll sit in a comfortable chair while a highly trained neuro-technician places a magnetic coil on your head. This device produces a low-frequency magnetic field to induce mild electrical signals in the targeted areas of the brain.
Time spent in the chair is typically 30 minutes, and the stimulation occurs for six to eight seconds every minute. You will be required to close your eyes during the six-to-eight-second periods that the magnet is being used.
4. Progress Evaluation
We will perform an additional qEEG and EKG after two weeks of treatment to allow us to track your progress and make any needed modifications. We will also monitor your progress throughout your daily treatments to confirm how you are feeling and to track improvements.
To achieve optimal success results from MeRT, most conditions require six to eight weeks of treatment.
Results are based on strict compliance with our treatment regimens. Results may vary based on each individual and are not guaranteed.
Currently, MeRT is FDA approved to treat MDD (Major Depressive Disorder) and OCD (Obsessive-compulsive Disorder).
Additionally, many studies show the effectiveness of MeRT treatment on various conditions, and research is ongoing.
Common Benefits* of MeRT Treatment Can Include:
Improved sleep
Better concentration and focus
More Relaxation
Enhanced memory and mental clarity
Reduced pain
Better mood and more emotional stability
Less Stress
Increased attention span
Improved sociability
More motivation
Fewer cravings for drugs or alcohol
Improved adaptation to change
Better self-confidence and self-esteem
Read some of the incredible testimonials from patients who have received MeRT treatment here.
*Results are based on active and strict observation of our regimens. Results may vary based on the individual users and are not guaranteed.
Call Our New Patient Coordinator to Learn More
What to Expect from your MeRT Treatment
When you come into the Brain Treatment Center for MeRT, we will go through the four steps of MeRT, as explained above. Here's how that lays out in our clinic:
EEG/EKG Testing
When you come in for your first appointment, we will perform the qEEG and EKG. These tests will help us evaluate brain activity and show us any dysfunction. The qEEG, or brain mapping, is a valuable tool as it lets us customize treatment for YOU.
Our chief neurotechnician performs the qEEG/EKG testing, which takes approximately 45 minutes.
We will also gather your new patient paperwork at this time and get you scheduled for your initial assessment period of treatment.
Clinical Evaluation and Consultation
Following the testing, your second appointment will be a clinical evaluation with Nurse Practitioner Kayleigh Prowse, which takes approximately 45 minutes. You can have this appointment via Telemedicine or in-clinic, whichever you prefer.
During this consultation, Kayleigh will answer all your questions and discuss your applicable treatment plan. You will also have an opportunity to meet with our physician and Medical Director, Julie Kim, M.D.
Assessment Period
Six weeks of treatment is recommended for patients undergoing MeRT in order to achieve optimal and long-lasting results. However, prior to committing to the six weeks, we have you first go through an assessment period of treatment to see how you will respond. This assessment period is included in the six weeks of treatment.
The assessment is two weeks long, comprising nine treatment sessions, followed by a repeat qEEG. We treat you Monday through Friday the first week and Monday through Thursday the second week. A typical treatment session lasts about 30-45 minutes.
At the end of the second week, your provider will go over the follow-up qEEG results with you.
Continuing Treatment
If clinical changes are occurring as they should and the qEEG also shows progress, then you will continue treatment. This ongoing treatment occurs five days per week, Monday through Friday. And repeat qEEGs and clinical consultations occur every two weeks throughout treatment.
You should feel the benefits of treatment within a week or two. And because treatment is cumulative, you should continue to note improvements throughout your treatment period — and even for some weeks afterward.
As a note, since we perform treatment on consecutive days, you must be able to stay in or around the San Diego area while you go through therapy.
Also, the potential side effects of treatment are minimal and should dissipate as you progress through treatment. Plus, the effects of treatment generally last a lifetime, though some patients prefer occasional follow-up treatment as needed.
* Improvements and results of MeRT are based on strict and active observation of our treatment protocols. Results may vary based on each person and are not guaranteed.
Insurance
We are an in-network provider with TRICARE. Therefore, if you have TRICARE insurance, it is possible that your policy may provide coverage for you or a family member, depending on your specific policy and condition. Our New Patient Coordinator can discuss this with you in further detail.
For all other insurance, we are considered out of network and cannot file insurance on your behalf. We can, however, provide you with the appropriate paperwork at the end of your treatment. Then you can submit it to your insurance company to see if they will provide you with any reimbursement.
Currently, rTMS is FDA cleared for Depression and OCD (Obsessive Compulsive Disorder.)
Some patients have reported that they have been able to receive some reimbursement for EEGs or clinical evaluations. However, this depends on their health coverage. Additionally, Medicare patients have reported that their coverage provides no reimbursement for MeRT.
We take all major credit cards, including Visa, MasterCard, American Express, and Discover.
Care Credit
Care Credit is also an option to help finance medical expenses and is a separate company from The Brain Treatment Center San Diego. This is a credit card you can use to cover medical expenses and services. And they typically offer zero-interest financing for 12 months.
When you go to the Care Credit website and apply, they will rapidly let you know if you receive approval. 

Interested, but not Sure?
Talk with our New Patient Coordinator
It's normal for patients and their families affected by neurological conditions to feel frustrated and isolated. After all, many have lost hope that treatment can improve the condition. And we have some understanding of what you may be going through.
However, there is hope. MeRT has helped patients restore their brain function, reclaim their lives, and feel passionate about living again.
That's why we want to help guide you through the process so that you can make an informed decision about whether MeRT is the right treatment.
It costs nothing to call us and talk about what is happening. Our New Patient Coordinator is here for you.
She understands your pain and can answer all your questions. Additionally, she can explain the process and protocols, costs, possible insurance benefits, and any other details you want to know.
During this no-obligation consultation, she will take all the time you need to know whether you should take the next steps.
Call Our New Patient Coordinator to Learn More
Or fill in the form below and she will contact you.
Contact Us
For more information or to speak with our New Patient Coordinator, please fill in the information below.
MeRT Treatment Protocol Featured on "Broken Brain" Podcast
Mark Hyman, M.D., is an esteemed functional medicine physician and best-selling author. He founded the Cleveland Clinic Functional Medicine Clinic and created an ongoing podcast called "The Broken Brain." This podcast focuses on many things that affect the brain and overall health, from diet to sleep to therapy.
MeRT was featured on one of his podcasts as an exciting new treatment for patients suffering from traumatic brain injuries, post-traumatic stress disorder, and major depressive disorder.
Dr. Erik Won, president of The Brain Treatment Center, spoke extensively about the origins of MeRT technologies and how it has been used to treat veterans who have suffered these types of conditions after returning from war.
The Department of Defense completed extensive studies on how MeRT treatment has helped these people, and Dr. Won talks about the many successes.  Click here to watch this amazing podcast! 
MeRT for Autism Featured on "The Doctors" TV Show
Many children with autism have experienced some miraculous results in their overall function after going through MeRT treatment.**  "The Doctors" interviewed neurologist Spencer O. Miller, MD, who has been using this treatment, and some moms of kids with autism give their testimonials as well! Click here to watch this episode!